We welcome students back to The Studio on 5/30. Check out our revised schedule. We ask all students respect social distance measures put in place.
We are not able to accommodate free week passes or new Groupon students at this time.
Saturday:
Sunday:
First yoga class? Check out our FAQ's here
New students enjoy our Intro month for $40 here
The Studio is your conscious community center.
Our mission is to create a safe place where people can come to share their gifts, connect with other like-minded people, and grow their yoga practice.

Tea & Elixir Lounge
Reno's only late night Tea and Elixir Bar, featuring live DJs, art, acroyoga and dance. Offering specialty teas and elixirs. Wednesdays 8-11pm, Fridays 9pm-1am.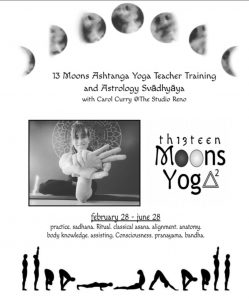 practice. sadhana. ritual. classical asana. alignment. anatomy.body knowledge. assisting. consciousness. pranayama. bandha. harnessing energy. sanskrit. ancient philosophy. sutra. astrology. Led by Carol Curry. www.13moonsyoga.com
UPCOMING WORKSHOPS + EVENTS
Reiki Level 1

5/30, 11am-5pm

Reiki is Japanese for Life Force Energy and many have enjoyed its benefits worldwide. This full day workshop will explore the history, benefits and methods of Reiki healing. We will also explore the subtle energy system of the chakras. Each participant will leave this workshop a Reiki Level 1 Practitioner.

$145 before 3/31, $175 after

Class size limited to 8.
Yoga & Your Back

June 20, 1:30-3:30pm via ZOOM

This workshop will introduce how to practice yoga with a back care focus.

We will address poor posture and tightness in the area around the upper back, as well as reversed neck curve, shoulder dislocation and kyphosis of the upper back.

$30