Tea & Elixir Lounge
Reno's only late night Tea and Elixir Bar, featuring live DJs, art, acroyoga and dance. Offering specialty teas and elixirs. Wednesdays 8-11pm, Fridays 9pm-1am.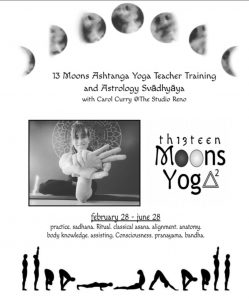 practice. sadhana. ritual. classical asana. alignment. anatomy.body knowledge. assisting. consciousness. pranayama. bandha. harnessing energy. sanskrit. ancient philosophy. sutra. astrology. Led by Carol Curry. www.13moonsyoga.com
UPCOMING WORKSHOPS + EVENTS
13 Moons Teacher Training

Led by Carol Curry

200 Hour Ashtanga Based Yoga Teacher Training

For dates and pricing visit 13moonsyoga.com
Reiki Level 1

April 11, 11am-5pm

Reiki is Japanese for Life Force Energy and many have enjoyed its benefits worldwide. This full day workshop will explore the history, benefits and methods of Reiki healing. We will also explore the subtle energy system of the chakras. Each participant will leave this workshop a Reiki Level 1 Practitioner.

$145 before 3/31, $175 after

Class size limited to 10.