Tea & Elixir Lounge
Reno's only late night Tea and Elixir Bar, featuring live DJs, art, acroyoga and dance. Offering specialty teas and elixirs. Wednesdays 8-11pm, Fridays 9pm-1am.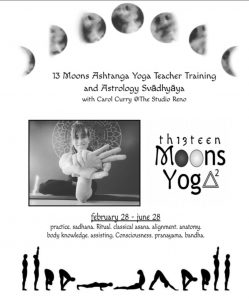 practice. sadhana. ritual. classical asana. alignment. anatomy.body knowledge. assisting. consciousness. pranayama. bandha. harnessing energy. sanskrit. ancient philosophy. sutra. astrology. Led by Carol Curry. www.13moonsyoga.com
UPCOMING WORKSHOPS + EVENTS
Yoga for Cancer

January 6

In support of our community, we are offering a special weekly yoga class specifically for the cancer client in mind. Our FREE class is opened to all cancer patients in the community regardless of where you receive care. We're here to help you strengthen your body, nurture hope and courage, and enrich your spirit. All cancer patients, survivors and caregivers are welcome to attend.Six Mondays 1/6-2/24( no class on President's Day, 2/17)
To Register or for more details contact the instructor, Suzanne Dong yogisuz@gmail.com
Tantric Speed Dating

February 1, 5:30pm

Tired of Swiping? Tantra Speed Date isn't your average singles event.

Relationship skills games + speed date, you'll share moments of fun, guided connection with up to 24 dates in a traditional Puja circle.

Exercises are playful, PG-rated (verbal dyads, dance, light partner yoga, improv), and infused with positive relating skills. You'll walk away not only with matches, but with a refreshing perspective on what relationships can be.

Get your ticket today!
Language of Love - Asana for Pairs

February 14

Join Vanessa Dodds for this delightful experience blending elements of Tantra with yoga poses for pairs. Learn to receive from your partner, lover, friend, family member. This event is clothes on, gentle, non-sexual contact with surprises in store, designed to stimulate your senses and open your heart.

$29 per person, $49 per pair.
Functional Movement for the Female Body

February 15

What makes the female body so dynamic? So capable? So adaptive? YOU! Individual, incredible, YOU.

Come learn from Dr. Kiley Lester, Pelvic Physical Therapist, about the anatomy and physiology that makes the female body so powerful from the inside out. From the pelvic floor to the ribcage, we'll zero in on some similarities amongst women and also dispel some myths about being limited by "good" and "bad" exercises.

How do you practically implement this information? Morgan Oleson, certified women's health personal trainer and birth doula, will teach you how to apply and maximize functional movement to enhance not only your workouts but moving through your everyday life. She has extensive experience keeping women both safe AND thriving!

2/15

10:30am-1:00pm

$40