The Studio is your conscious community center.
Our mission is to create a safe place where people can come to share their gifts, connect with other like-minded people, and grow their yoga practice.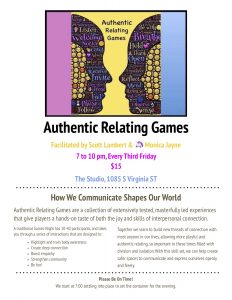 Authentic Relating Games – every 3rd Friday of the month. 7pm in our lounge.
Freaky Fridays – every 4th Friday of the month. 7pm in our lounge. $15

Tea & Elixir Lounge
Reno's only late night Tea and Elixir Bar, featuring live DJs, art, acroyoga and dance. Offering specialty teas and elixirs. Wednesdays 8-11pm, Fridays 9pm-1am.

Group Kirtan
2nd and 4th Wednesday of every month. 8-9pm
$10 suggested donation.
Therapeutic Restorative Workshop

Saturday September 22, 2-4:30

The intention of this workshop is to create the space for you to not only relieve tension and stress, but also to facilitate a profound relaxation and healing experience in mind, body and soul.

We will open with a centering and clearing pranayama practice, a heart and throat opening mantra, a thoughtful intention and an introspective meditation. In the therapeutic aspect of this workshop Yoga therapy balls will be used to loosen connective tissue, heal muscle and improve posture. Restorative Yoga will follow to find calm and rejuvenation for the mind, giving time and space for the nervous system to shift into repair. The healing energy of Reiki will be offered to facilitate the open flow of life energy, bringing soothing to the soul. And, to complete the whole experience, therapeutic grade essential oils will be offered to support and deepen the nourishing and healing.

The workshop will be led by Suzanne Even, E-RYT 200, who has been leading group and private Yoga classes and offering workshops since 2012. Suzanne has a B.S. degree in Health and Human Science, is a Certified Health Coach and Reiki practitioner. 

Sunday, September 22nd 2-4:30.

$40
Demystifying Sex and Intimacy

September 26, 7-10pm

In this introductory workshop Monica Jayne will show you how sex and intimacy don't have to be so mysterious.

You will learn to distinguish the varied ways each person is wired to experience turn-on and arousal. Knowing this, you can be come a master of your own body and a maestro for others'.
When you are acutely aware of how to read a persons body, body language, tone of voice, languaging and more, you will experience greater understanding, more empathy, and deeper connection in all of your relationships, both platonic and romantic.
Yoga & Your Hips

September 22

Do you have stiffness in the hip or pelvic regions? In this workshop we will explore how the stiffness in the hips effects posture, breath and vitality of the internal organs.
We will methodically work through poses to provide more freedom in the hips while exploring the relationship our movement has to tension in the lower back.

$40