Welcome to The Studio!
First yoga class? Check out our FAQ's here
New students enjoy our Intro month for $40 here
Having issues with your account? Email kelly@thestudioreno.com for assistance.
The Studio is your conscious community center.
Our mission is to create a safe place where people can come to share their gifts, connect with other like-minded people, and grow their yoga practice.
Holiday Gift card sale!

Select Gift cards are 20% off through the end of the year.

Tea & Elixir Lounge
Reno's only late night Tea and Elixir Bar, featuring live DJs, art, acroyoga and dance. Offering specialty teas and elixirs. Wednesdays 8-11pm, Fridays 9pm-1am.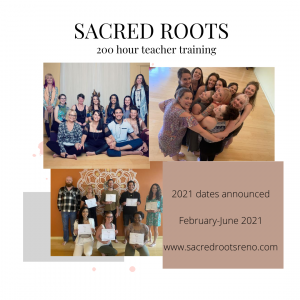 200 Hour Teacher Training begins in February 2021. Check out our teacher training tab for more information.
UPCOMING WORKSHOPS + EVENTS
New Moon Women's Circle

November 14, 6-9pm

TOGETHER, we RISE as we meet each month under the New Moon and dive deep into cyclical living, rituals of ReWilding, and sacred feminine alchemy teachings.

All Womxn are welcome. Space is limited to 15 to honor state mandates.

$40
Despacho Gratitude Ceremony

November 21, 3-5pm

During this special ceremony we will connect with our bodies through some gentle movement and then express gratitude in our hearts by participating in a Despacho ceremony, where we will create a "present" that will become a living prayer and offering to the earth.

$30
Somatic Breathwork Experience to Remove Obstacles and Return to Love

December 6, 4-6pm

The breathwork practice Amber Campion will be guiding you through is an active meditation technique that uses the breath to purge the body and nervous system of emotional residue. Breathwork creates an internal environment of deep awareness and connection, enabling you to access non-ordinary states of consciousness by turning down the cognitive "thinking" part of your brain. In this state, you are more able to access well-being and self-regulation of your nervous system. Somatic Breathwork mindfully moves stagnant energy, facilitating release of strong emotions such as anger and sadness that are stuck in the body and effecting the mind. In this more sovereign state it is easier to experience creative insights, intuition discernment, breakthroughs, transformation, and profound healing.