The Studio is your conscious community center.
Our mission is to create a safe place where people can come to share their gifts, connect with other like-minded people, and grow their yoga practice.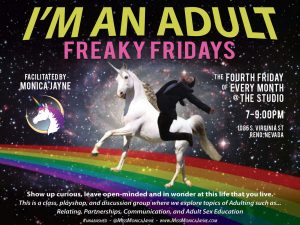 Authentic Relating Games – November 12 + 26. $15
Freaky Fridays – every 4th Friday of the month. 7pm in our lounge. $15

Tea & Elixir Lounge
Reno's only late night Tea and Elixir Bar, featuring live DJs, art, acroyoga and dance. Offering specialty teas and elixirs. Wednesdays 8-11pm, Fridays 9pm-1am.

Group Kirtan
2nd and 4th Thursday of every month. 8-9pm
$10 suggested donation.
Thanks & Giving Flow

11/28, 9:30am

his powerful class will open your heart and leave you with a sense of deep gratitude and recognition for all that you have. Give back and feel even more blessed as this class will benefit

Urban Lotus Project

. Suggested donated $20. Led by Andrea Moore and DJ Denver Miller.
Myofascial Release

11/16, 11am-1pm

Therapy ball bliss–From the soles of the feet to the crown of the head participants will explore the micro-regions of the body with Yoga Tune Up® Therapy Balls. Enjoy a restored mind and a mobilized anatomy. This unique course offers an opportunity to use Yoga Tune Up® Therapy Balls.

The 2 1/2″ diameter balls are made of a special rubber designed to work through multiple layers of muscles, rub out adhesions and tension, and provide deep
tissue massage. All levels welcome.

Perfect timing to release tension and stress from the upcoming holidays.
$40 – Cost of workshop includes a set of Yoga Tune Up® Therapy Balls.
Sacred Sound Healing

November 17, 8pm

Drawn from a deep well of love, Matty and Bee bring a sensorial offering of sound to call in energies for healing and release. Woven with elements of creation, this sound journey is crafted to provide an immersive experience with sound as medicine to align the body, mind and spirit. We invite you to come and join us for this offering from the heart!
$25
Reiki is Japanese for Life Force Energy and many have enjoyed its benefits worldwide. This full day workshop will explore the history, benefits and methods of Reiki healing. We will also explore the subtle energy system of the chakras. Each participant will leave this workshop a Reiki Level 1 Practitioner.

$145 before 12/31, $175 after

Class size limited to 10.