Welcome to The Studio!
We have TWO locations: All classes at our new location at 600 S. Virginia Street(entrance on Moran Street) will be labeled "Moran Street."
First yoga class? Check out our FAQ's here
New students enjoy our Intro month for $40 here
Having issues with your account? Email kelly@thestudioreno.com for assistance.
The Studio is your conscious community center.
Our mission is to create a safe place where people can come to share their gifts, connect with other like-minded people, and grow their yoga practice.

Tea & Elixir Lounge
Reno's only late night Tea and Elixir Bar, featuring live DJs, and community. Offering specialty teas and elixirs. Wednesdays 8-11pm, Fridays 9pm-1am.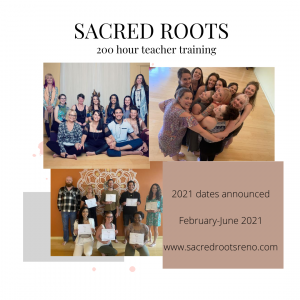 200 Hour Teacher Training begins in February 2021. Check out our teacher training tab for more information.
UPCOMING WORKSHOPS + EVENTS
Reiki Level 1

Jan 23, 10am-4pm

Reiki is Japanese for Life Force Energy and many have enjoyed its benefits worldwide. This full day workshop will explore the history, benefits and methods of Reiki healing. We will also explore the subtle energy system of the chakras. Each participant will leave this workshop a Reiki Level 1 Practitioner.

$150 before 12/31, $175 after

Class size limited to 8.

This will be the last Reiki Level 1 offered until fall 2021.
New Moon Women's Circle

Feb 13, 6-9pm

TOGETHER, we RISE as we meet each month under the New Moon and dive deep into cyclical living, rituals of ReWilding, and sacred feminine alchemy teachings.

All Womxn are welcome. Space is limited to 13 to honor state mandates.

$40, preregistration required.
Qoya is a movement practice that combines yoga & dance in a fun, meaningful way that helps us remember that our
essence is WISE, WILD & FREE!
The 2nd Saturday of each month, starting January 9th, 2021
5:30 p.m. to 7:30 p.m.
This workshop is open to anyone who has completed Reiki level 1 training.

If you have completed Level 1 training with a teacher other than Kelly, please reach out to her prior to signing up.

Price = $239