The Studio is your conscious community center.
Our mission is to create a safe place where people can come to share their gifts, connect with other like-minded people, and grow their yoga practice.

Tea & Elixir Lounge
Reno's only late night Tea and Elixir Bar, featuring live DJs, art, acroyoga and dance. Offering specialty teas and elixirs. Wednesdays 8-11pm, Fridays 9pm-1am.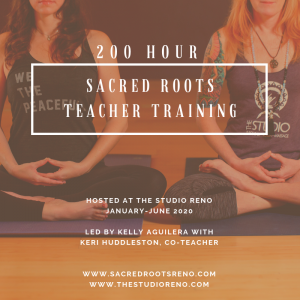 Sacred Roots 200 Hour Teacher Training begins January 23rd.
Early bird pricing ends 12/15.
www.sacredrootsreno,com to apply
Sacred Roots 200 Hour Teacher Training

Begins January 23-June 2020

This 200 hour teacher training examines the roots, bones and heart of the practice.

Led by Kelly Aguilera and Keri Huddleston, all students who receive this training will learn how to be safe, effective and dynamic yoga teachers. Deepen your connection to yoga, connect with your community and discover the heart of the practice.
Sacred Sound Healing

12/21, 10:30-11:30am

Winter will be here soon, and we are hosting a solstice sound journey on the morning of solstice to welcome the new season. Led by Jonny Cosmic, join us for an hour of vibrational healing with Tibetan Bowls, Didgeridoo and Medicine Drum Percussion. Something to cover the eyes is recommended.

$25
Ashtanga Yoga Workshop: Transitions, Balances, Inversions + Backbends

December 8, 2-4pm

Ashtanga Yoga is an ancient system of postures, and set sequences, designed to purify, strengthen, and open different systems of the body. The Primary Series, known as Yoga Chikitsa, purifies the organs of the body, balances to the sacrum and spine, and cultivates equilibrium. The Intermediate Series, known as Nadi Shodhana, purifies the nervous system, bringing lightness to the body, and clarity to the mind. Both systems harmonize the mind, body, and spirit, creating fertile ground for the more subtle practices of pranayama and meditation.
Reiki is Japanese for Life Force Energy and many have enjoyed its benefits worldwide. This full day workshop will explore the history, benefits and methods of Reiki healing. We will also explore the subtle energy system of the chakras. Each participant will leave this workshop a Reiki Level 1 Practitioner.

$145 before 12/31, $175 after

Class size limited to 10.