The Studio is your conscious community center.
Our mission is to create a safe place where people can come to share their gifts, connect with other like-minded people, and grow their yoga practice.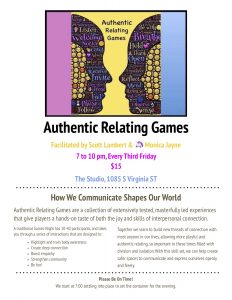 Authentic Relating Games – every 3rd Friday of the month. 7pm in our lounge.
Freaky Fridays – every 4th Friday of the month. 7pm in our lounge. $15

Tea & Elixir Lounge
Reno's only late night Tea and Elixir Bar, featuring live DJs, art, acroyoga and dance. Offering specialty teas and elixirs. Wednesdays 8-11pm, Fridays 9pm-1am.

Group Kirtan
2nd and 4th Wednesday of every month. 8-9pm
$10 suggested donation.
Create Healthy Habits

Saturday September 14, 2-3pm

This event is based around habit change specifically sugar habits. I explain what sugar does in your body, why we start and can't stop and how to transform sugar cravings so you can kick the habit for good. I also explain how stress ties in with unhealthy habits and how stress management not only helps you to align with our desires more clearly but also aids in proper absorption of nutrients and digestion.

This event is free to all.
Reiki Level 1

September 21

Any new students interested in this workshop can place their name on the waitlist and will be informed of future offerings.

Reiki is Japanese for Life Force Energy and many have enjoyed its benefits worldwide. This full day workshop will explore the history, benefits and methods of Reiki healing. We will also explore the subtle energy system of the chakras. Each participant will leave this workshop a Reiki Level 1 Practitioner.

$145 before 9/1, $175 after *

Class size limited to 10, all registrations need to be complete by 9/16/18
Yoga & Your Hips

September 28

Do you have stiffness in the hip or pelvic regions? In this workshop we will explore how the stiffness in the hips effects posture, breath and vitality of the internal organs.

We will methodically work through poses to provide more freedom in the hips while exploring the relationship our movement has to tension in the lower back.

$40 Pre-Registered

$50 same day