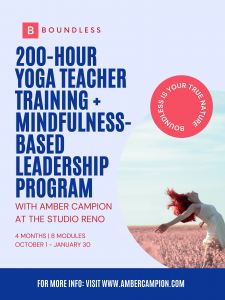 The heart and soul of this training will be to welcome you home – to your essential, unbounded Self and to the leader within.
Structured over 4 months, this in-depth yoga teacher training + mindfulness-based leadership experience will include four sections, broken down into eight modules.
The philosophy of this teacher training is based upon the understanding that we learn best through our personal and shared experiences. Therefore, each module will be experiential and exploratory so that trainees can develop a felt understanding (somatic) knowledge of yoga, mindfulness, and leadership as well as the principles underlying them.
This approach will be integrated with practical teaching methodologies so that trainees can effectively share this knowledge and emerge as skilled, articulate, and embodied yoga teachers and leaders.
Course structure, dates, location, requirements, investment:
This Yoga Teacher Training + Mindfulness-Based Leadership Program meets for 8, three-day weekends over 4 months, providing an ideal setting for study over an extended time frame, while also allowing for this journey to fit within the flow of your life.
4 months | 8, three-day weekend modules
Fridays 3-7pm (breaks included)
Saturdays + Sundays 9-6pm (breaks included)
In addition, over the 4-month training, you must attend/observe/assist a minimum of 4 Dynamic Release Flow classes with Amber taking place on Tuesdays + Thursdays from 6-7:15pm. There will also be homework in between modules such as course reading, practicing with peer groups, a total of two assignments, and one case study.
SECTION 1: Embrace your Roots (Kula)
Module 1: Friday, October 1 – Sunday, October 3 (2021)
Module 2: Friday, October 8 – Sunday, October 10 (2021)
SECTION 2: Evoke your Purpose (Dharma)
Module 3: Friday, November 5 – Sunday, November 7 (2021)
Module 4: Friday, November 19- Sunday, November 21 (2021)
SECTION 3: Empower your Truth (Satya)
Module 5: Friday, December 3 – Sunday, December 5 (2021)
Module 6: Friday, December 10 – Sunday, December 12 (2021)
SECTION 4: Embody your Potential (Moksha)
Module 7: Friday, January 14 – Sunday, January 16 (2022)
Module 8: Friday, January 28 – Sunday, January 30 (2022)
GRADUATION: Sunday (30th)
TUITION: 
Early bird: $2,997
Regular: $3,200  
PLEASE NOTE:
Early bird registration closes: Friday, August 20, 2021
General Registration closes: Friday, Sept. 10, 2021
For more information and the application to Boundless visit Amber's website.