Sacred Roots Teacher Training begins February 2022. Led by Kelly Aguilera and Keri Huddleston, Sacred Roots Vinyasa Teacher Training is designed for the student and seeker who is interested in deepening their yoga practice and willing to dig deep into the roots of this ancient practice in order to grow tall in their power.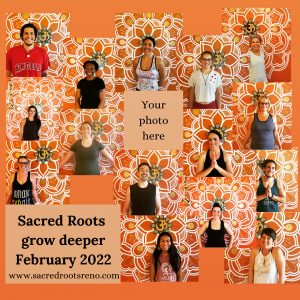 Sacred Roots examines the bones, breath, heart and roots of the practice that we so deeply respect. Our intention is to guide each of our students into embodying the principles of yoga philosophy and facilitate an hour long vinyasa flow class.
Each week module includes a deep dive into the yamas/niyamas, unique approach to anatomy education and expert curriculum in teaching methodology. Each student will learn how to sequence their own yoga class while being able to confidently share yogic philosophy.
Kelly and Keri are veteran yoga teachers with backgrounds in education. We welcome all students who have at least a year of yoga practice, and cap our enrollment at 12. For more information, or to apply, visit Sacred Roots website
2022 Dates
Thursday nights 6:45pm-9pm.
Saturday and Sundays 9am-5pm.
February 3, 5+6
February 17, 19 +20
March 3, 5+6
March 17, 19 + 20
April 7, 9+10
April 21, 23 + 24
May 5, 7 + 8*
May 19, 21 + 22
June 2,4 +5
*Online hours necessary in May
Investment: $2500
For more information, or to apply, visit Sacred Roots website