Past Events
Events Search and Views Navigation
May 2019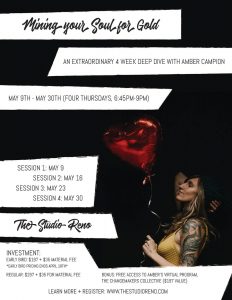 The term 'mining' means the act, process, or work of extracting valuable resources. In this 4-week deep dive, we will explore the depths of our brilliance, so we can bring our full self to the world. What if you could feel clear and confident with your priorities, making decisions about your life, your work in the world, and your message in a way that feels deeply aligned with your soul? How might your life transform if you felt profoundly connected…
Find out more »
An Intro to menstrual cycle wisdom. Discover the magical and mysterious ways your body has been speaking to you. Gain confidence in tracking and understanding your cycle. Learn how you can uplevel your feminine essence. Meet the Moon Cycle Archetypes and enjoy your experience as a woman even more! Register at zsuzsihussla.com
Find out more »
We will discuss: Botox vs. No Botox Tips on healthy skin, inside and out Facial Exercises & more! Complimentary wine and snacks and a free facial will be given away!
Find out more »
June 2019
To all of The Studio – Yoga fanatics... Join the More Than Yoga – Yoga Challenge Enrollment and early start June 1-7 Official start date and document your 5 poses – Saturday June 8th Finishing July 3rd – be done before the holidays and enjoy the progress you've made Fine tune 5 of the best basic poses, and complete challenges for Karma Points* *redeemable for discounts and incentives in future months. $50 for existing members - (must have 12 punches…
Find out more »
September 2019
This event is based around habit change specifically sugar habits. I explain what sugar does in your body, why we start and can't stop and how to transform sugar cravings so you can kick the habit for good. I also explain how stress ties in with unhealthy habits and how stress management not only helps you to align with our desires more clearly but also aids in proper absorption of nutrients and digestion.
Find out more »
Reiki is Japanese for Life Force Energy and many have enjoyed its benefits worldwide. This full day workshop will explore the history, benefits and methods of Reiki healing. We will also explore the subtle energy system of the chakras. Each participant will leave this workshop a Reiki Level 1 Practitioner. $145 before 9/1, $175 after *
Find out more »
Breathe, chant, meditate, discover self massage techniques. Heal your muscles and connective tissue. Receive Reiki energy and nourish with essential oils. Sign Up Here Sunday, September 22nd 2-4:30. $40
Find out more »
Do you have stiffness in the hip or pelvic regions? In this workshop we will explore how the stiffness in the hips effects posture, breath and vitality of the internal organs. We will methodically work through poses to provide more freedom in the hips while exploring the relationship our movement has to tension in the lower back. Sign Up Here $40 Pre-Registered
Find out more »
October 2019
Ashtanga Yoga is an ancient system of postures, and set sequences, designed to purify, strengthen, and open different systems of the body. The Primary Series, known as Yoga Chikitsa, purifies the organs of the body, balances to the sacrum and spine, and cultivates equilibrium. The Intermediate Series, known as Nadi Shodhana, purifies the nervous system, bringing lightness to the body, and clarity to the mind. Both systems harmonize the mind, body, and spirit, creating fertile ground for the more subtle…
Find out more »
Take your inversions, arm balances and transitions to the next level!This workshop will provide opportunities to work on specific elements of poses and fun techniques to help gain confidence being upside down. Hands on assistance, props and wall space provided. This class limited to 15 participants.
Find out more »
+ Export Events