Somatic Breathwork Experience to Keep the Channel Open
June 20 @ 11:00 am

-

1:00 pm

$39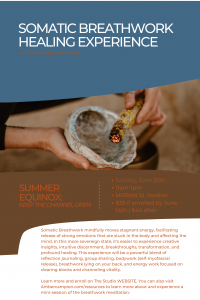 $44 / $39 if you enroll by June 14th
*please note that space is limited to 16 participants (last time this workshop sold out), so it's advised to enroll asap to reserve your spot.
June 20th is SUMMER SOLSTICE! Let's ring in this new season with vitality by activating our creative life force…and I know no better way to do so, than breathwork. Start your Sunday activated, then head out into the warmth of Summer. To make this a super special ritual, I recommend doing this with a friend(s) and then heading to a picnic in the park after.
The breathwork practice I'll be guiding you through is an active meditation technique that uses the breath to purge the body and nervous system of emotional residue. This practice creates an internal environment of deep awareness and connection, enabling you to access non-ordinary states of consciousness by turning down the cognitive "thinking" part of your brain. In this state, you're more able to access well-being and self-regulation of your nervous system.
Somatic Breathwork mindfully moves stagnant energy, facilitating release of strong emotions that are stuck in the body and affecting the mind. In this more sovereign state, it's easier to experience creative insights, intuitive discernment, breakthroughs, transformation, and profound healing. This experience will be a powerful blend of reflection journaling, group sharing, bodywork (self-myofascial release), breathwork lying on your back, and energy work focused on clearing blocks and channeling vitality.
"Amber and the work she offers are a true gift. Her somatic breathwork sessions are transformative every single time, touching into all layers physical, emotional, and spiritual. In her sessions, I am often healing on levels I'm not consciously aware of; but when I return to life afterward I feel reset, recalibrated, and often lighter, as though deep traumas have been released from my body.
Since beginning regular breathwork with her, I have noticed a huge decrease in my nervous system's agitation, and a wonderful increase in my ability to stay calm and present during challenges. Not only that, but I leave with all kinds of insights about those challenges and what I can explore for self-growth.
This work is probably unlike any other you've ever received, and it is profound in a way that can't be described. If you're feeling a tug in this direction, there's a reason, and I highly encourage you to follow that intuition and experience it for yourself."
– Mea | Massage Therapist
Learn more about the breathwork meditation at http://www.ambercampion.com/resources